DOUBLE TILT SLIDER WINDOWS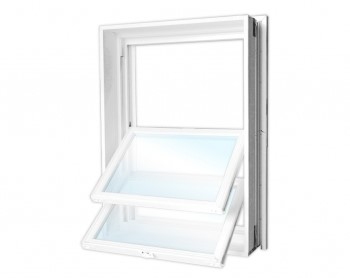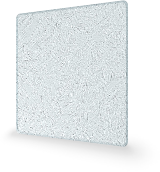 Awning windows are hinged at the top and open outward. Screens are placed on the interior of the window unit. Similar to casements, the entire window area can be opened, while sliders are limited to less than half of the window area.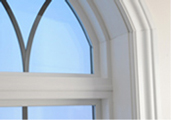 THEN & NOW
Georgian architectural styling, inspired by Greek antiquity of most attractive wood windows of the last 150 years.
New generation vinyl window appearance inside and with naturally appealing proportions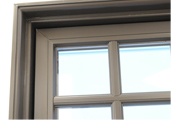 PREMIUM FINISH
Highest quality 3 1/4″ primary frames with extensive beautiful options inside and out.
Mitred contoured corners without butt joints using only the highest technology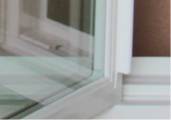 BUILT TO LAST
No unattractive rubber strips.
Acry-Shield glazing technology – solar protected , natural looking.
Genuine Schlegel fin-seal, bug maze, and sash interlock for exceptional efficiency.
Lifetime Warranty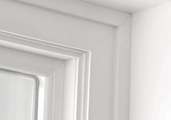 BRILLIANT SASH BALANCES
Unique "Finished carpentry" appearance with steps and reveals.
Brilliantly designed and long lasting sash balances for ease of use greatly exceed AAMA requirements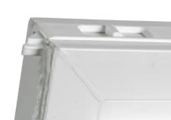 SECURE WHILE EASY TO ACCESS
GRADE 40 security. Far beyond the highest Canadian standards of windows against forced entry.
This level of security is unique to Hometech.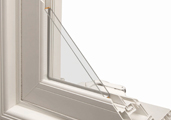 ONLY THR FINEST VINYL
The finest "pure" UPVC formula available. Regrind free.
Multi-channel welding at all corners for strong, insulating frames and sashes.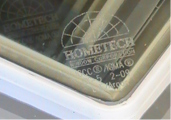 CARDINAL SEAL
7/8″ overall CARDINAL I.G. sealed units. These avoid and are warrantied against very common and expensive seal failure problems.
"Cardinal's superior IG construction translates into a 0.2% seal failure rate over twenty years – plainly the lowest in the industry.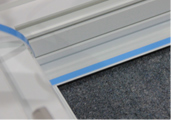 SEAL LIKE NO OTHER
Infrared-applied white polyester warm edge seal for top thermal performance and great looks.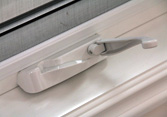 TRUTH HARDWARE
Truth Hardware has been recognized as the industry leader in the design and manufacture of quality operating hardware.
Visit Truth Hardware for more information.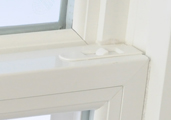 LOCK TILT MECHANISM
Quick-lock tilt in mechanisms.
Fibre glass screens are strong and durable while easy to remove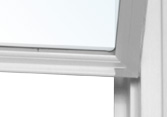 BUILT IN SASH HANDLE
Built In Sash Handle for durability and ease of operational use.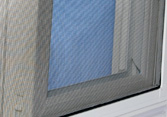 BEST QUALITY SCREENS
Excellent visibility insect screen designed to maximize your outward view
Woven from small, refined yarns that improve the screen's openness, making visibility sharper and more brilliant
COLOURS
Add the perfect touch to your home by enhancing the natural beauty of your Hometech windows with the perfect colour to complement your home. Our finishes feature the world's leading nanotechnology are environmentally safe and wonderfully durable. The colours bond at the molecular level for unparalleled beauty and longevity.
COLOURS WITH TEXTURES
This new and revolutionary textured surface eliminates surface glare and enhances the appearance of depth and solidity. Modern hybrid co-polymer technology actually repels dirt while providing the very latest look to enhance your home. You'll be amazed.
BRICKMOULDS
Make your windows appear more prominent by adding exterior brickmoulds. Hometech offers a variety of brickmoulds. Match your window's colour and choose from many different profiles. All brickmoulds come with a built in rubber gasket removing the need to use calking.
INTERIOR OPTIONS
Solid vinyl jambs, can be cut down to meet most jamb depth needs.
Vinyl Clad Jamb (Wood Wrapped in Vinyl), can be cut down to meet most jamb depth needs.
A Variety of Different Wood Jambs (Primed Paint Grade, Pine, Oak, etc.), can be cut down to meet most jamb depth needs.
Vinyl Package Sizes
Jamb sizes:
1-1/2″
2-1/2″
3-3/8″
4-5/8″
New Contemporary Casing size:
3-1/2″
Colonial Casing sizes:
2-5/8″
3-3/8″
Rosette sizes:
2-5/8″
3-3/8″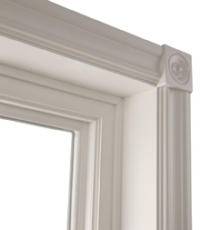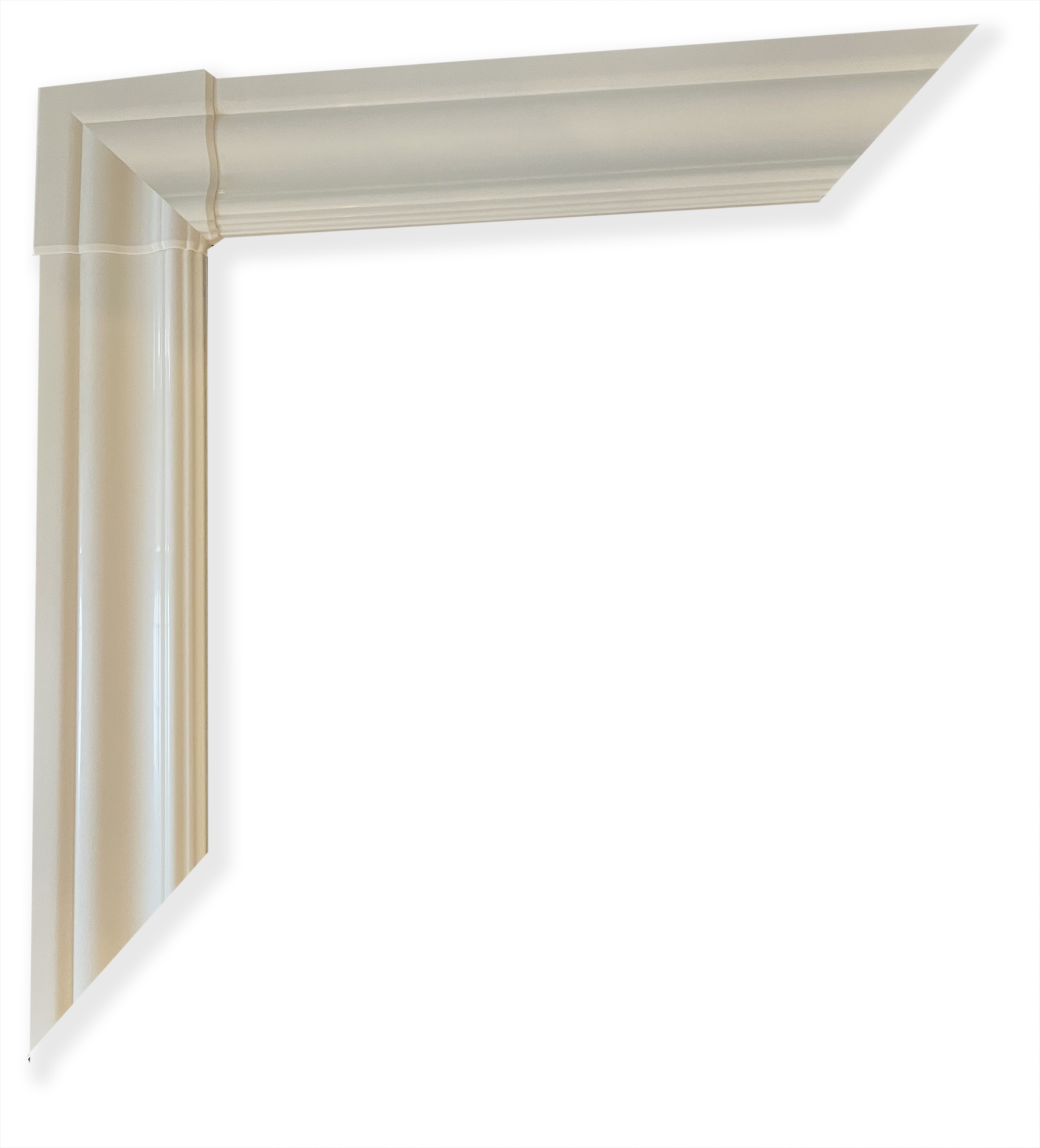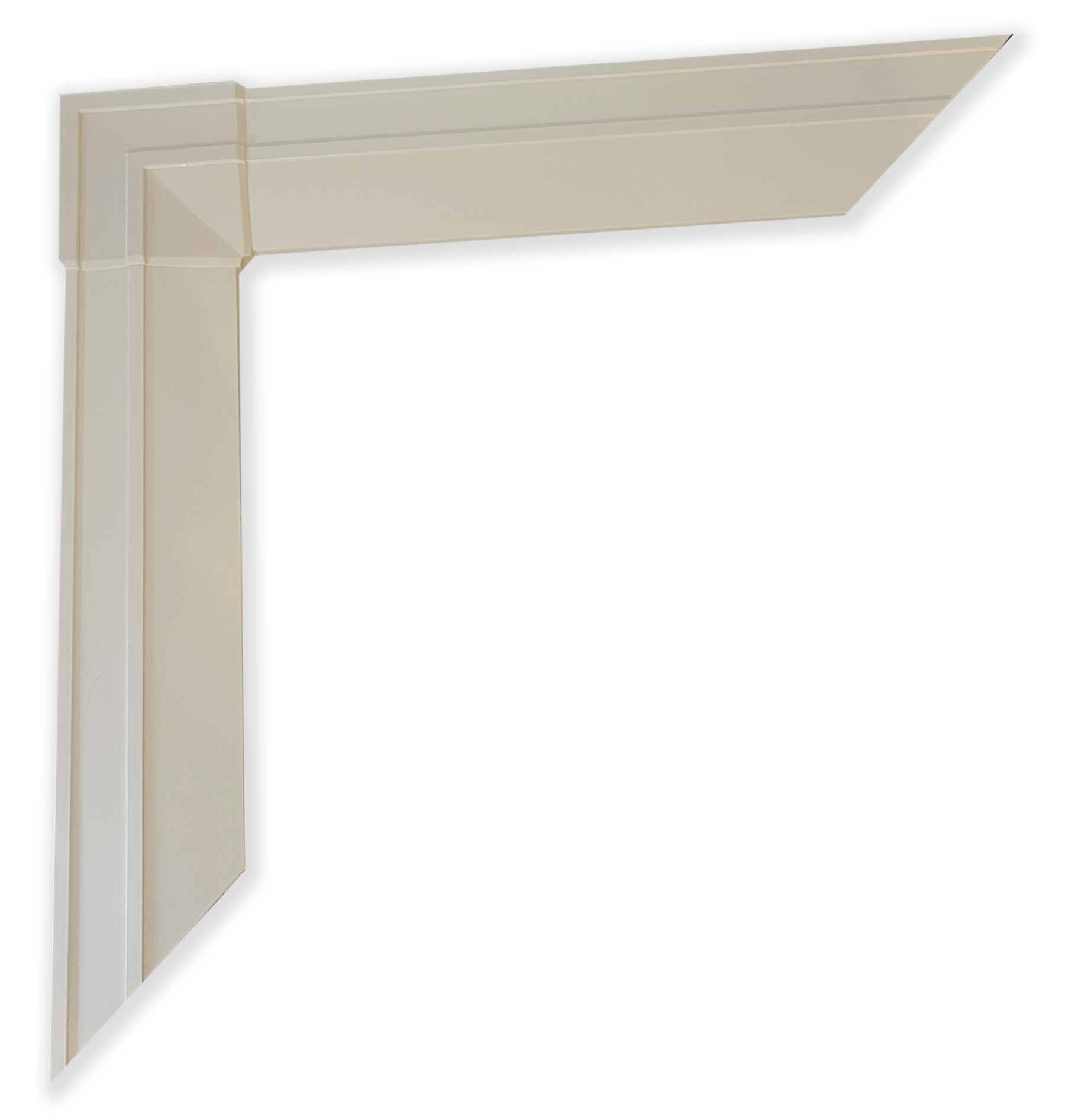 Finish your windows with just the right touch by incorporating beautiful grillwork of various styles and dimensions. Choose the refined borders of the 'prairie' style to the classic beauty of simulated divided lites (SDL's), which feature the look of individual window framing with an interior spacer bar look as well. Simply beautiful. Or feel free to choose another popular style.
SPECIFICATIONS
Please Note: Width Sizes – Minimum 16″ to Maximum 36″
Height Sizes – Minimum 16″ to Maximum 80
SCREENS
STANDARD FIBER GLASS
Phiferglass, Phifer's trademarked fiberglass screening, has been the standard in the industry for decades. All three products are woven from permanent glass yarn, which has been coated with a protective vinyl to ensure lasting beauty, color and flexibility and will not rust, corrode or stain. They are produced under the most exacting conditions to meet rigid specifications and have all passed 1200 hours of QUV accelerated weathering.
Standard Widths
Standard Roll Length
Standard Colors
24″ to 84″ (60.9cm to 213.4cm); other widths available upon request
800′, 600′ and 300′ ROM's (243.84m, 182.8m and 91.4m); 100′ rolls (30.48m)
Charcoal and Silver Gray

Pet Screen is a heavy-duty, vinyl-coated polyester insect screening that is ideal for use in high traffic areas. Pet resistant and tear and puncture resistant, Pet Screen is stronger than regular insect screening. It is excellent for use in patio and porch enclosures as well as windows and doors, and installs like regular insect screening.
Standard Widths
Standard Roll Length
Standard Colors
36″ (91.4cm), 48″ (121.9cm), 60″ (152.4cm), 72″ (182.9cm), 84″ (213.4cm), 96″ (243.8) and 120″ (304.8cm)
100′ (30.48m) in all widths and 50′ (15.24m) in all widths except 120″
BLACK

BetterVue insect screen is an improved Visibility screen (iVis) that offers clearer views with enhanced insect screen performance. It is ideal for any situation where homeowners seek a better view with improved airflow and insect protection.
Greater openness provides 20% better airflow, allowing light and breezes to flow through
20% more optical clarity for a sharp, more brilliant outward view.
Improves light transmittance in low-E glass windows with 10% better insect protection
Passed accelerated weathering tests (QUV 1200hrs. and Xenon Arc 2500 Kjs.)
GREENGUARD certified
Infused with Microban antimicrobial product protection
Standard Widths
Standard Roll Length
Standard Colors
ROM's: 18″ to 72″ (45.7cm to 182.9cm); 100′ Rolls: 24″ to 84″ (60.9cm to 213.4cm)
600′ ROM's (182.8m) and 100′ rolls (30.48m)
BLACK

HANDLE OPTIONS
STANDARD HANDLE
This operator will provide a full 90 degrees of window opening and disconnects easily from the sash for cleaning.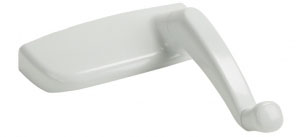 This operator features a peak operating torque approximately 28% lower than Truth's Traditional Single Arm Operators (depending on mounting location).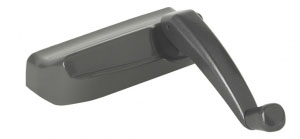 ENCORE FOLDING OPERATOR
Encore® Series Nesting Operator Covers Offer A Smooth Contemporary Look Truth's new "nesting" cover for the Encore Series of operators provides options to an already stylish design. Encore operators give you all the strength and performance characteristics you need in an operator with the flexibility of handle and cover options.
Full-Flip Handle
The Full-Flip Handle design is engineered to help maintain its "open" position without retracting in on itself during operation. The handle provides smooth operation with a more contemporary look when nested and allows for easy screen removal without removing the crank.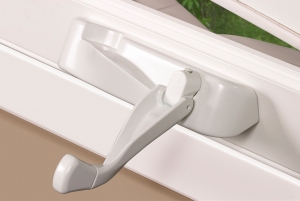 OPEN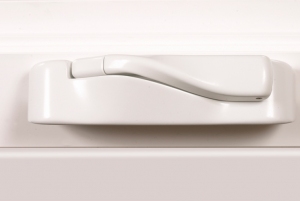 CLOSED
RESTRICTORS
SAFEGARD CASEMENT WINDOW OPENING CONTROL DEVICE [WOCD]
The industry's first casement – Window Opening Control Device (WOCD) that meets the requirements of ASTM F2090-10. This innovative hardware system provides safe and secure operation of egress style windows critical in today's building projects. Multiple safe guards are in place to help control the window opening to prevent accidental falls while at the same time allowing easy operation in the event of an emergency. Typical operation limits the opening of the sash to less than 4″. An additional operation is required to open the window fully for egress purposes. This additional operation can be performed without the use of keys, or special tools and the SafeGard™ casement – WOCD will automatically re-latch when the sash is fully closed.